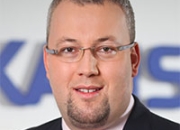 Arkadiusz Rudzki
Leasing and Asset Director
Skanska
Arkadiusz Rudzki is Leasing and Asset Director at Skanska Property Poland. He is responsible for strategy for all markets which company runs in Poland – Warsaw, Cracow, Wrocław, Poznań and Łódź. Last year almost 70% of leasing agreements signed by his team were contracts with business services companies. Arkadiusz also supports Skanska Leasing teams in the Czech Republic, Hungary and Romania in coordination of leasing processes with global corporate clients.
He has over 14 years of experience in real estate market working among others for Bank Zachodni WBK SA, international private equity and Knight Frank, one of the leading international real estate advisory company. In Knight Frank he held position of Head of Commercial Agency, where he was tasked with developing the Office Agency, as well as Asset Management services for portfolio clients. Thanks to that experience he knows the market from different perspectives.
As a result of attending the conference Arkadiusz expects better business services sector understanding as well as learning more about the sector needs for office space.