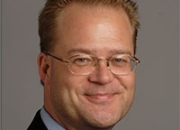 Tom Bangemann
Senior Vice President Business Transformation
The Hackett Group
Tom Bangemann (46) is Senior Vice President Business Transformation at The Hackett Group. He has been with The Hackett Group for over 10 years. He headed the European Advisory & Transformation businesses before focussing on Business Development and the Globalization practice for EMEIA as well as Hackett´s "global deals". He currently focuses on regional business development activities in central, eastern and northern Europe.
Tom has worked on numerous advisory, consulting, auditing and benchmarking engagements in almost all functions of a company, with a deep expertise focus on the World-class performance of companies, especially in the Finance function. His experience includes a set of over 100 globalization/sourcing projects (incl. shared services & outsourcing) covering all the phases of the business process sourcing journey from pre-assessment through feasibility to optimisation of existing shared service and outsourced organizations.
Tom also appears on conferences as a chairman (in Europe, Asia, Middle East), regular speaker and panellist and writes articles and books, e.g. on "Shared Services in Finance & Accounting" published in February 2005. Tom chaired the Hungarian Shared Service Community for three years, and advises other shared service initiatives and company boards. Tom is the external industry advisor for the UK Shared Service Forum (formerly NWSSF) for 2010 and 2011, and an SSON steering group member. Tom established the Baltic Shared Service Community in 2010 and supports it.
Tom was a regular Board member of a publicly listed software (procurement and finance) company from 2/2006- 2/2008. He was also named "HR Superstar" by HRO Magazine in 2005, 2006 and 2007. Tom received the award of "Thought Leader of the Year" at the SSON Shared Services & Outsourcing Week Awards ceremony in May 2010.
Tom has a Masters degree in Business & Economics from the University of Hanover (Germany) and an Honor Citation for his studies at California State University. He previously worked for Arthur Andersen in Auditing and Consulting.