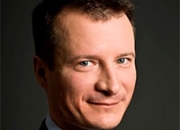 Grzegorz Ruszala
PS Delivery Director
CBRE Corporate Outsourcing
Grzegorz heads Portfolio Services, Technology, Reporting and Analytics in CBRE Corporate Outsourcing – global market leader in outsourcing solutions within Corporate Real Estate sector. CBRE provides complex Lease Administration, Client Accounting and Facility Management services to global clients from a wide variety of industries. Currently CBRE Corporate Outsourcing employs 200 Professionals and follows a path of a steady growth for the upcoming years. Prior to joining CBRE, Grzegorz was Head of Change Management at RBS Global Hub Europe, managing delivery of change initiatives at Warsaw-based shared service centre, as well as Country Programme Manager in charge of integration of ABN AMRO and RBS branches in Italy and Greece.
Moreover, Grzegorz is a seasoned management consultant that used to work for a number of management consulting companies (Accenture, PwC, Goldenberry), gaining 10+ years of professional experience in performance improvement of financial institutions through strategic transformation of people, processes and technology. Supported global clients in launching their start-ups in Poland: two consumer finance business lines and a brokerage house.
Grzegorz holds a MS degree in Management from AGH University of Science and Technology.