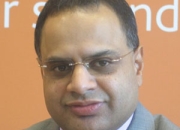 Vic Khan
Director of Global Client Service Centres – Bracknell, Krakow, Manila
Alexander Mann Solutions
Vic is the Director of Shared Service Centres for AMS. He has over 13 years experience in the Outsourcing space with a particular focus of establishing Shared Service Centres from an On-shoring, Near shoring and Off Shoring perspective. Vic has a global remit in managing shared service operations, with Centres in Bracknell UK, Krakow Poland and Manila Philippines with over 500 people employed in them.
Vic has an MBA, MSC in Human Resources and is qualified Black Belt in Lean Six Sigma.
Recently, Vic was appointed to the Management Board of ASPIRE the Association of IT & Business Process Services Companies in Poland – the industrial body representing SSC and BPO companies particularly in Krakow..