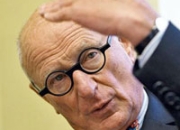 Wally Olins
Chairman
Saffron Brand Consultants
Wally Olins is Chairman of Saffron Brand Consultants. He is one of the biggest names in corporate branding.
Over the years, he has worked on branding issues with some of the world's largest organisations, including Renault, VW, Tata, BT, Lloyds of London, Mondragon, C&A and Fujitsu. More recently he has turned his attention to the branding of cities and countries, including London and Poland.
He is the author of Corporate Identity, On B®and and Trading Places: why companies and countries are taking on each other's roles.
During Acting Local, Winning Global, Wally Olins will focus on Industry Branding and Employer Branding, working with original ASPIRE research on students attitudes and awareness of the SSC, BPO and IT sectors and their attitudes to work.